Tokyo's most colourful Sushi experience!
You love eating it, now learn the one and only, rainbow-coloured Sushi making skills from our expert chef.
We offer a 2 hour, hands-on cooking class in Asakusa, a traditional downtown area of Tokyo.
In a fun & friendly environment. We guide you through the whole process of making Sushi rice, using traditional ingredients, and make 6-7 different Nigiri and rolls. No, this isn't some rainbow rolls you've seen before– Based on a real Edo-mae style, spiced up with imagination– You won't find any artificial colours here!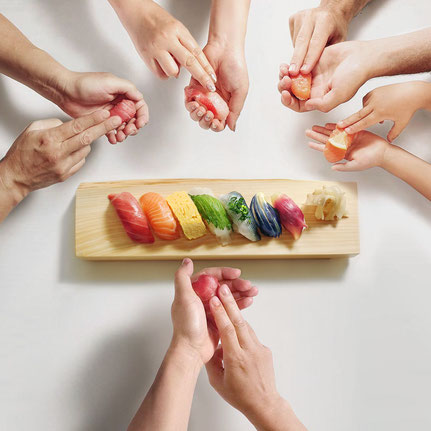 What Happens in the class?
The class lasts 2 to 2.5 hours. You'll sit at our work table with a maximum of 7 guests with all the ingredients, and condiments laid out in front of you.
We start showing you how to wash, rinse, and cook Japanese rice properly. Then give a display of our fish cutting skills and preparing 6 different coloured veggie fillings with you.
When the rice is ready, the chef will show you how to mix the rice, and vinegar to make perfect Sushi rice. Then we'll take you step by step, through the process of how to make Nigiri, and Maki– traditional pieces of sushi and sushi rolls on your plate!
After, see how the chef cooks Tamago yaki– rolled grilled egg, then enjoy it with all your sushi creations with complimentary miso soup!
There's a Rainbow in every box.
As an additional bonus, everyone attending classes will receive a unique takeout box which includes a nice logo sticker! This flat, fold-up paper container is completely original, designed to hold your colourful sushi creations.
Although, you cannot pack leftovers from class for hygienic reasons, you'll walk away with this amazing gift, and new skills to prepare your very own sushi feast at home!
We also highly recommend visiting Kappabashi street nearby following class; it's the largest kitchen wholesale district in Tokyo with more than 170 speciality stores to explore, and discover. Everything you learn from your lesson can be put to use right away. Sounds awesome, doesn't it?